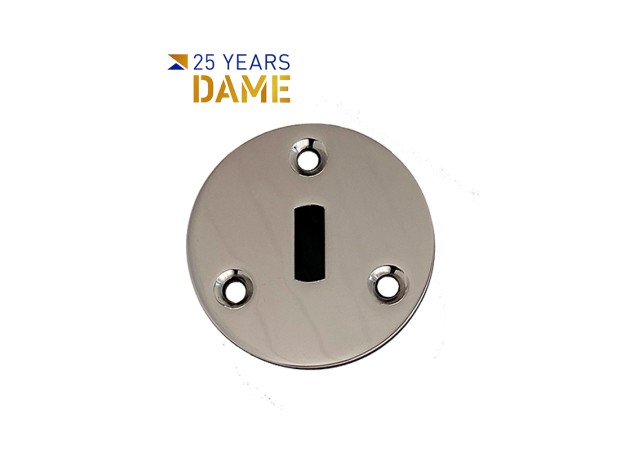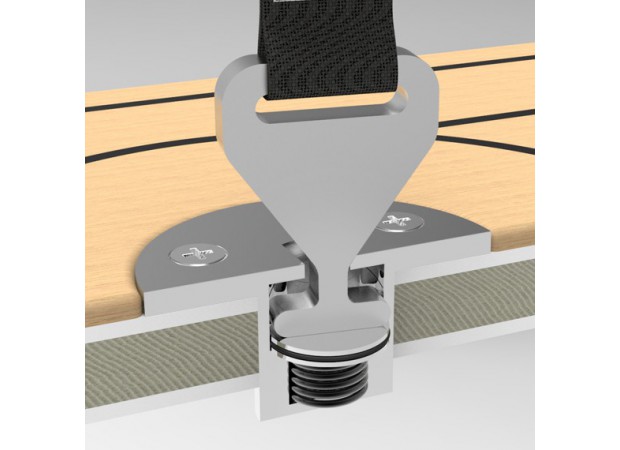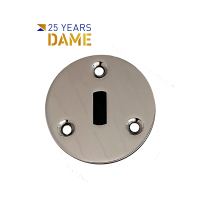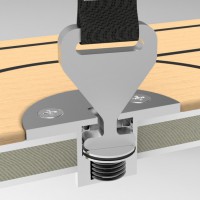 Padeye - Flush Fitting
Load tested to 750kg, our award winning Rapid Padeye is engineered with a weather tight spring loaded seal, designed to prevent any water or debris from entering the padeye.
We recommend at least three to secure a 500kg Tender or Jetski, and four for Tenders up to 1450kg.
NOTE: This product is just the Padeye. No ratchet strap or fittings included. You will need to buy these separately. 
Product Description & Fitting Instructions
---
Introducing the award winning Flush Fitting Padeye.  When routed into the deck, our Flush Fitting Padeye provides you with a hazard free bathing platform.
Your Flush Fitting Rapid Marine Padeye at a glance.
Load tested to 750kg
Easy to install 
Install-push-turn, to release, push-turn-remove
Sits flush in the deck 
Weather tight spring loaded seal
You will need to buy:
3 Padeye fixing bolts
3 Snap toggles 
Padeye Snaphook 25mm Ratchet strap (per padeye)
Data sheet
S Line

S28
S31
S34
S39
S43

J Line

J29
J33
J39
J45
J50
T45

Tender Line

220
250
275
310
340
360

Yacht Tender Line

340
360
410
460

Yachtline

360
400
440
490

Highfield Classic

CL260
CL290
CL310
CL340
CL360
CL380

Highfield Sport

SP300
SP330
SP390
SP420
SP460

Highfield Patrol

PA420
PA460

Grand Silver Line

S330
S330S
S370
S420
S470
S520

Grand Golden Line

G340EF
G380EF
G420LF

Lightweight

325 STX
365 STX
Superlight 310

Lightweight Deluxe

10 LTE
11 LTE
12 LTE

Luxury Sport

Venture 14
Venture 16

Williams Turbojet

285TJ
325TJ
385TJ
445TJ

Williams Sportjet

345SJ
395SJ
460SJ
520SJ

Nautique Range

6.6
7.2
7.7
8.2
8.7
9.2
9.7

Patronus Range

6.2
7.2

BRIG Falcon Tender

300FT
330FT
360FT
380FT
420FT
480FT

BRIG Eagle

3.4E
4E
5E

Sur Marine Easy Tenders

Easy 270
Easy 290
Easy 320
Easy 370

Sur Marine Super Tenders

ST 250/270 Rider
ST 260/280 Classic
ST 290 Classic
ST 310/330 Classic
ST 325 Rider
ST 350/370 Prestige
ST 400 Prestige
ST 470 Prestige

XP Series

350XP
430XP
465XP

S Series

290
330
380

Ribs & Dinghies

Alumina
Nautilus
Oceanus

Zar Tender

ZF-0
ZF-1
ZF-2
ZF-3
ZF-5

Zar Classic

43 Classic
47 Classic
53 Classic
57 Classic
61 Classic
65 Classic
75 Classic

Zar Sport Luxury

49 Sport
59 Sport
79 Sport
85 Sport
95 Sport

Zar Cabin

61 Plus Classic
65 Plus Classic
75 Plus Classic
75 Skydeck
87 Welldeck
97 Skydeck